Why Use a Cloth Diaper Service?
Tidy Tushees Makes Cloth Diapering Easy
We do all of the dirty work, and you and your baby get all of the benefits of using cloth diapers.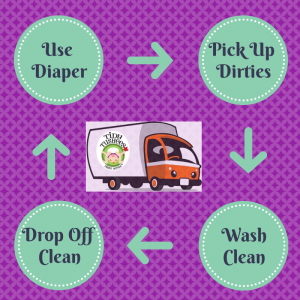 We Provide the Diapers – Clean, fresh cloth diapers that are designed to work on all sizes and shapes of babies. All of our cloth diapers are made in Canada.
We Pick Them up – You don't even have to be home. Simply leave your diapers outside your door on your designated day and we come and pick them up. **Special arrangements are made for apartments.
We Wash Them – In an industrial process that ensures the diapers are clean and sanitized. The diapers arrive to you looking like they are brand new.
We Drop Them Off – When we pick up your dirty diapers, we drop clean ones off at your door at the same time.
Click here for more information on how Tidy Tushees Cloth Diaper Service works and pricing information. 
Benefits of Using Cloth Diapers
Better For The Environment
Most babies will go through about 8000 diapers. If you are using disposables every one of those diapers ends up in the landfill.
Cloth diapers are used over and over for multiple babies.
Better For Baby's Health
Disposable diapers are loaded with chemicals that sit against baby's skin 24 hours a day. These chemicals can be harmful to baby's sensitive skin and cause sever diaper rashes.
Cloth diapers are made from natural fibres, and contain no chemicals. The washing process as a cloth diaper service ensures that all of the detergents are removed from the diapers.
Save Money
Every time you use a disposable diaper, you are throwing money in the garbage. Literally. Disposable diapers are expensive and cost between $1250 – $2000 per year depending on which brands you buy.
With cloth diaper service you get as many diapers as you need, and the price stays the same. $24.95 per week no matter how many diapers you use.
Potty Training, Super Cute, and More