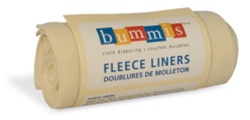 Bummis Fleece Liners
$5.00
Out of stock
Description
Wick moisture away for that 'stay dry' feel
These great microfleece liners wick moisture away from your baby's skin and into the absorbent cloth diaper below, creating that "stay dry" sensation. They are super soft and breathable, and especially great for night time comfort.
Fleece liners ensure easy clean-ups as well! Solids will slide off easily and our liners will protect your baby's diaper from being damaged by creams and ointments. Layer on top of any cloth diaper and add a flushable liner if desired.
Our Fleece Liners are made from Repreve – "more than recycled" polyester! It's all about giving back … Repreve is a member of 1% For The Planet, an alliance of businesses that donate at least 1% of their annual revenues to environmental organizations worldwide. See Repreve .com for more information. Using Repreve polyester is part of our efforts to be a responsible manufacturer creating sustainable products at home in North America.
As with all our products, the Fleece Liners are guaranteed lead, phthalate and BPA free.
Our lovely minimalist packaging is environmentally friendly; made of chlorine free recycled fibres.
5 liners per package